Activ Micro II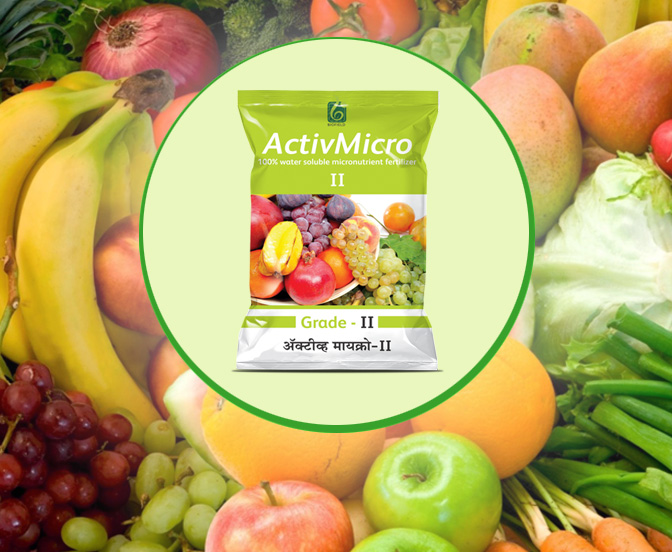 Indotech Organics is a manufacturer of Agricultural Chemicals & Micronutrient in Aurangabad, Maharashtra, India. | Plant growth regulators, Borofield, Activ Ferrous, Activ Zinc, Silicate Powder, Soil conditioners, Humifield, Spray adjuvant, Wetol
A multimicronutrient formulation of ActivMicro II is 100% soluble in water.
pH stability range: 4.0 - 7.5 (in aqueous solution). Use of Activ Micro II results in complete and quick absorption of all nutrients, particularly during critical deficiency period.This makes the crop healthy and resistant to diseases and result in maximum yield. ActivMicro II contains Magnesium and Sulphur for better results. It dissolves in water completely and rapidly. It can be used for drip irrigation and hydroponics.
Recommended Crops:
Grapes, Pomegranate, Cotton, Sugarcane, Tea, Flower, Vegetables, Fruits, all greenhouse crops.
Rate of Application:
Dissolve 0.5-1.0 g of ActivMicro per liter of water for foliar application. Use 500-1000g per hectare per spray. Use 2.0-2.5 kg of ActivMicro per hectare per application for drip irrigation. The quantity used per spray and the number of doses per crop may be decided depending on the severity of deficiency. Caution:Store in a cool and dry place.keep away from children.
COMPOSITION :
As per Maharashtra state Grade – II
| Nutrient content | % Weight minimum |
| --- | --- |
| Zinc | 3% |
| Copper | 1% |
| Iron | 2.5% |
| Manganese | 1% |
| Boron | 0.5% |
| Molybdenum | 0.1% |
| | |